Time for a new entry.
Now is the time to replace my last entry with a new one. I think it was making some people uncomfortable :) So, what's on the menu today? Let me check to see what interesting links and/or pictures I have piling up...
Hold up, stop the presses! News from the
Apple front
. Apple is going to start installing Intel processors into their computers? Why exactly? Maybe in order to make a really powerful processors for the PowerBooks, as I know they've been having problems upgrading to a G5 PowerBook due to not being able to adequately keep the heat level down on the G5s in a small area (or something - can you tell that I'm not really very techie?). And from reading the
first article on that list
, I see that my hunch was correct:
As for why Apple was making the shift, Jobs pointed both to past problems and to the PowerPC road map, which he said won't deliver enough performance at the low-power usages needed for powerful notebooks.

Two years ago at the same conference, Jobs introduced the first G5-based Power Macs and promised developers that the company would have a 3GHz PowerMac within 12 months. The company still doesn't have a machine that fast. "We haven't been able to deliver," he said. Nor has Apple been able to introduce a G5-based laptop--something Jobs said "I think a lot of you would like."
Interesting news. I'll guess I'll stop by some Apple blogs, such as
the Cult of Mac
to check out the word on the street.
More on the news front: this time of importance for Los Angeles inhabitants and their... uh, packages -
Study Finds Genital Abnormalities in Boys
. No wonder there are so many large cars and men who like to show off their money in the LA area. This explains EVERYTHING.
ACK
- no more legal weed! (but there are some extremely funny comments in that thread, if one has the patience to sift through it all) And no, I don't agree with this ruling, in case you're wondering. And it's not because I may - or may not - like to smoke a little now and then - no, it's because I think this is just a silly thing to waste a law on. I mean seriously, morphine is an illegal drug and yet hospitals are allowed to supply it - and in strong doses too! What the heck is wrong with allowing doctors to prescribe a little weed to get someone over a rough patch?
Eeediots
Here is my last batch of Star Wars related links for now (I promise - although, fair warning, I
have
been known to break promises now and then) - these were just too good to pass up. This
first one
is a game of Twenty Questions sponsored by Burger King that has been making the internet rounds. Think of something really really obscure and see if he can guess it... it's pretty amazing. And
very
addicting.
A freaking hilarious
parody script of Revenge of the Sith
. Even though I enjoy the movie and have seen it twice more since the last time I mentioned it, I still think the glaring plot holes and general idiocy of some of the scenes are fun to laugh at. Oh, and I thought of one more question -
how can a space ship, which is out there in zero-gravity space, start sinking like a ship on the sea?
Exploding? Sure, although I really don't know how fire burns without any oxygen - but I am very very confused about that sinking/falling thing...
On the same note, even though the writer seems to hate SW with a passion,
this is just darn funny
. Especially lines like:
"Even worse are the idiots who scarf down these sub-childish morsels of comedic relief, playing into Lucas' shallow theatrics so easily that you could sell these people hookers in a vagina storm."
Sometimes I just need a little vulgarity in my life. (Oh man, I certainly hope no one finds their way to this blog by searching "vagina storm" expecting, well, a storm of vaginas - please accept my apologies if so.)
More information about the
guy
genius who brought us
The Darth Side: Memoirs of a Monster
.
So I'll end with one from today that made me really think. It's about
China's newest attempt at internet control
. I was wondering, does China block all internet sites that are not originating in China from being viewed in the country? Because what's to stop Chinese immigrants to, say, America from writing and discussing whatever the hell they please about the Chinese government, which people who are still living in China can read and participate in? Looks like bloggers and online journalists with a dissenting opinion are about to start disappearing from China. Oh yeah, and...
pleasedon'tletthishappeninAmerica, pleasedon'tletthishappeninAmerica, pleasedon'tletthishappeninAmerica...
Time for sleeping - hey, look at that, it's only 11:20 - much better, now we'll just see if I actually go to bed, or if I just fart around for a couple more hours - I think I have some Buffy to watch...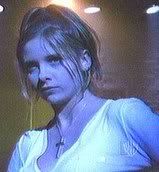 This is Buffy getting ready to kick my ass for staying up too late, and then having the nerve to whine about how I'm soooooo tired the next day. Oy....