It's Trout Fishing in America time.
Today was a good day. As I was wading through the mountainous pile of spam messages in my Hotmail inbox this afternoon, I came across one piece of mail that was
NOT SPAM
- joy of joys! What was it, you ask? It was my monthly Trout Fishing in America newsletter. And just what in all tarnation is
Trout Fishing in America
, you ask? Some sort of club for... well... for
trout fishing aficionados
? No, silly. It's
a musical group
. Well, more like a musical duo with occasional guest musicians. Don't laugh, they are cool. Well, maybe not cool so much as talented. And very very very
cheesy
. Mmmmm, cheese.
Seriously though, Keith and Ezra (love that name -
Eeeezzzzrrrrraaaa
- it just roles right off the tongue) are a couple of the best bassists and guitarists around. And they are very nice. And I've been listening to their music since I was a kid (they write a lot of kid's music and have even been nominated for a couple of Grammies for it), so it brings on a nice sense of nostalgia when I listen to their music. Unfortunately, I haven't had a chance to go see them in a while - or even listen to their dulcet tones on CD for that matter, seeing as my parents are hogging all their CDs from me and refuse to adapt to technology enough to burn a couple for their favorite daughter - don't you just hate grumpy old-timers?
Anyway, reading the newsletter reminded me to look on iTunes for them, which I thought was a lost cause, due to that fact that they are nowhere near mainstream. But apparently a lot of their fans are hippy Apple-lovers (not unlike myself), so I guess they were able to get EVERY SONG THEY EVER WROTE OR COVERED (well, pretty much) onto iTunes! Yippeeeeeeee - I'm in the middle of a downloading whirlwind. I don't know how to link to the iTunes store directly, like
Shane Nickerson does
, but if you have iTunes loaded on your machine (and if you don't, WTF dude?), search for
Mandaddy
- if I was forced to choose a favorite TFIA song, that would be it. It doesn't really show off their musical prowess quite as well as something like, say,
Ode to Big Blue
, in which the musical melody is played entirely on Keith's stand-up bass, imitating the sounds of a dying blue whale perfectly - or their cover of Buddy Holly's
Not Fade Away
- but it is my fav for sentimental reasons (I named my first car Mandaddy). Give them all a listen! And more if you want... and no, I am not being paid to say these things.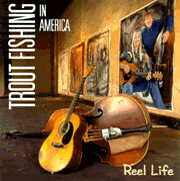 If you're not suffering from TFIA overload yet,
here's a good review
of one of their first albums.
TFIA Forever...