A Couple of Memes... and some Fun with Typing.
I've been having too much fun over the past few days, and my poor blog has suffered for it. But I'm back, and with a vengeance. I have been tagged, as you may recall from my last entry, by a
book meme
by Cate, so I will make a sorry attempt at continuing the meme in this post. Alas, I have also been tagged by a
stress-lowering list meme
by Kevin. So I shall make an attempt at that one as well.
Literature first!
THE BOOK MEME
The Number Of Books I Own
I just attempted to count, and got up to about 250 (both fiction and non) here in the apartment. But then I remembered that I have a few at work, a few in both cars, and some at my parents house. And I had to get rid of about a hundred before the move out to Cali. Why are books harder to part with than people?
Last Books I Bought
Well, I just put my copy of Harry Potter Number 6 "The Half-Blooded Prince" on hold. I haven't received it yet, as it doesn't come out until July 16th, but I think I'll count it anyway because I can't remember what I was actually buying while at Borders putting it on hold.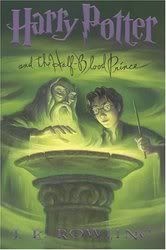 Last Book I Read
"The Tipping Point" by Malcolm Gladwell
You can find this book in the Marketing section of bookstores, but to me it's more of a social studies book. It's an incredible read if you have any interest whatsoever in why we, as humans, do the things we do - why we like the things we like, why we communicate the way we communicate, why certain things influence us and why other things don't. As the quote on the cover says, it will change the way you look at the world around you. He's written another one called "Blink" that I've been wanting to get my hands on, but unfortunately it is not available on paperback yet, and, like Cate, I refuse to pay full price for hardcover books, no matter how great they may be. One day I will be rich and will be able to afford the library that I dream about almost daily, but for now I must choose my battle.s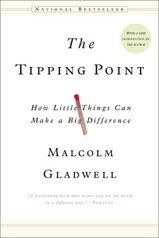 Five Books That Mean A Lot
Again like Cate (I think we must be long-lost cousins or something!), I'm not entirely sure what this means. Mean a lot to the world of literature in general? Mean a lot to my reading style? Mean a lot to my heart? Mean a lot to the way I view the world? I think I'm just going to combine the last two, and forgive me if I rush through this, but it's getting entirely too late - tomorrow's Monday, damn it.
"The Stand"
by Stephen King
I read this book while balancing on the cusp between childhood and adolescence (I was reading at a college level in 5th grade, what can I say?), so it will forever be a part of my being.
"Lamb: The Gospel According to Biff, Christ's Childhood Pal"
by Christopher Moore
This is one of the smartest parodies I have ever read. It's amazingly funny and detailed - and touching as well.
This
is the image of Jesus I grew up with - a guy who accepts every person, every religion and belief, every extreme of human behavior. I have yet to read any other Christopher Moore book, but if the rest are anything at all like this one, then I will promptly announce to the world that this man is a genius.
"Writing Down the Bones"
by Natalie Goldberg
This is not the best book out there for writing tips, but it
is
the best for getting your pen off the desk and into your hand. It's quite an inspiring book for a first-time creative writer - for someone who feels the writing bug in her bones, but doesn't know where to start. A great jumping-off point, to be followed up with something more in-depth. Unfortunately I haven't gotten to that next step yet, although I did also enjoy Stephen King's advice in his book "On Writing".
"The Dancing Wu Li Masters"
by Gary Zukav
I am morbidly afraid of numbers, but I love the theories of physics (at one point I wanted to major in astronomy - until I realized that there was way too much math for my feeble, word-oriented mind to grasp). Especially quantum physics and mechanics. I am attracted to the non-linear world that quantum mechanics presents to us. How something that is not even connected in a physical sense can still have an affect on something else a world away. The possibility of an infinite number of parallel universes (is that the plural of universe??). The branches of a life. I think this is why I love the internet so much as well - the way I can go to one site looking for one specific thing, and yet that site can lead me on a path I never expected to take. The uncertainty of the next page - the surprises just around the bend, dependent on which path I decide to tread, which link I decide to click. How all things seem interconnected, and how something totally unexpected can lead me back to the place I was before. An infinite number of paths I can take to arrive at the same conclusion. I can't think of anything more exciting than that!
And the Band Played On: Politics, People, and the AIDS Epidemic"
by Randy Shilts
I took a class in college called "Human Sexuality". It was offered through the Educational Psychology department, and it was a GREAT class. Not a blow-off class, but a serious study of how sex, the stigma of sex, and the diseases of sex affect our culture. One of the excerpts we were assigned to read was from this book, and it grabbed me, completely and inescapably. Because of this book, I have volunteered for a variety of different HIV and AIDS related non-profit organizations. Because of this book, I have handed out condoms and life-saving information in gay bars in Austin, TX. Because of this book, I have been sentenced to Hell by Christians who stand on street corners judging people from behind the safety of their out-of-context Bible verses. If I have helped save only one person's life because of this book, then Randy Shilts is a saint.
One Book That I Would Like To Burn
Honestly, not a one. Even if I don't like or agree with the words contained within, I love ALL books. Besides, I will need all I can get my hands on to fill my most-awesome future library. I need to own enough books to justify those spiffy rolling ladders, after all. Do you remember in Disney's animated Beauty and the Beast when the Beast shows Belle the library? Well, that's going to be MY library some day.
People I'd Like To See Waste Some Time On This Meme Nonsense
Mungo
Magazine Man
Kevin
Radioactive Jam
Demosthenes
Well, that took longer than expected. On to the stress-reducing list (technically -
The Anxiety Meme
). Here are the specific directions from Kevin:
List five things you enjoy, even when no one around you wants to go out and play. What lowers your stress/blood pressure/anxiety level? Make a list, post it to your journal, and then tag five friends and ask them to post it
to theirs.
1)
Take a walk and admire the: flowers/leaf-less trees/snow/neighbors' yards/whatever makes me see beauty in the world.
2)
Take a nap. I love to sleep and can be out like a light anytime, anywhere.
3)
Watch one of my favorite movies - any Lord of the Rings or Star Wars installment will do the trick.
4)
Read a short story that's full of hope.
5)
Think about how much worse it would be if I: lived in the Darfur region/got in a bad car accident and became paraplegic/lost my loved ones in a tsunami/was attacked by zombies (hey, I just saw Land of the Dead okay? Zombies freak me out).
People I'm tagging with this one:
Cate
1GloriousConundrum
Demosthenes
Radioactive Jam
ScroobiousScrivener
Before I go, I have a fun game for you guy's to play. Fair warning: it's a
typing game
- quite addicting and surprisingly tough. I always thought I was a pretty decent typist, but when faced with sharks and man-eating piranhas, my skills suffer. (Click "play online" on the
right
oops- I mean LEFT - side of the page.)
I'll leave you with a composite photo emailed to me from
Radioactive Jam
: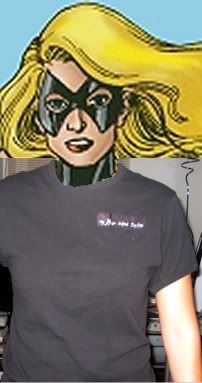 There's a headshot for ya, Kevin - as well as a nice combo pic of both the Ms. Marvel costume AND the mMdS shirt for you, MM :) I think this shall be my new uniform.
'night....