Happy Memorial Day.
Wow, where did THAT weekend go? I think I lost a few hours, has it really been 3 days?? Sometimes I could swear that I have glimpsed
Enlightenment
, only to be rudely brought back to "the real world" again by coming to the realization that I have completely wasted three whole days of my life. You know, if I was a monk in Tibet and had no need to worry about money or having a job or taking care of sick pets or keeping track of paperwork or fixing my car I would have lots of time to persue a better way of life. As it is, I have so much on my plate at the moment, that I've completely shut down and can't seem to get ANYTHING done. But instead of using my "not doing anything" time for something useful - volunteer work/life improvement/taking a vacation - I just sit on my butt feeling sorry for myself and thinking about all the stuff that I SHOULD be doing - paying bills/doing some work/taking care of sick pets/organizing paperwork/fixing my car. Hmmm... maybe I should just leave everything behind and join the
Chopra Institute
...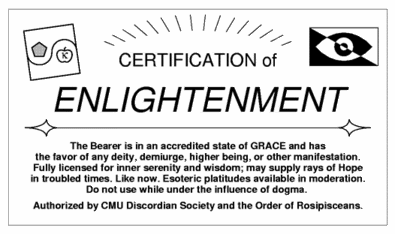 Or maybe I should just learn to better
manage my time
. Any tips that actually work for more than a couple of days before falling to the wayside? I could really really use some right about now, before this sense of panic gets any worse.
Eeewwww, I hate this feeling - gotta shake it off. This too shall pass...